August 24, 2023
Data Shows Increase in Severe Maternal Morbidity Rates in PA
Harrisburg – PHC4 analysts have found an alarming rise in severe maternal morbidity among patients hospitalized in PA for a delivery from 2016 through 2022. Severe maternal morbidity includes unexpected outcomes of labor and delivery that result in significant consequences to a woman's health.
PHC4 examines several common medical conditions and procedures annually to release meaningful statistical research briefs. "When our research team identifies a data trend such as this, we know we need to make our stakeholders aware," said Dr. Jane Keck, Director of Health Policy Research at PHC4. "We know this reporting provides valuable insights, we hope it can help improve future outcomes too," she added.
The rate of severe maternal morbidity in PA increased 40% from 2016 to 2022
In 2021-2022 the rate of severe maternal morbidity experienced in hospitals was 107.6 per 10,000 delivery hospitalizations; for a total of 2,625 women affected
The following categories of women had higher rates of severe maternal morbidity:

Women who were black, non-Hispanic

Women insured by Medicaid

Women from zip codes with poverty rates over 25%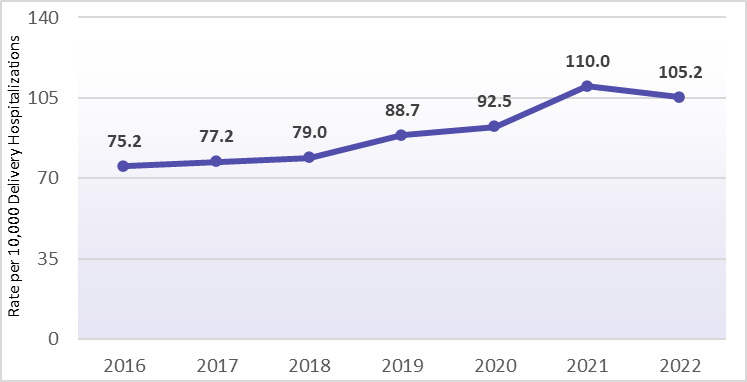 PHC4 is an independent state agency formed under Pennsylvania statute (Act 89 of 1986, as amended by Act 15 of 2020) in order to address rapidly growing health care costs. The Council continues to give comparative information about the most efficient and effective health care providers to individual consumers and group purchasers of health services, in addition to giving information to health care providers to use to identify opportunities to contain costs and improve the quality of care they deliver.
For more information, visit www.phc4.org.
Media contact:
Heather Nairn
Deputy Executive Director, PHC4
724-747-8250 l [email protected]