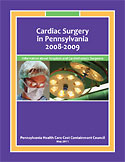 Create Your Own Report
The Cardiac Surgery in Pennsylvania 2008-2009 report examines the results of approximately 31,000 coronary artery bypass graft (CABG) and/or valve surgeries performed in Pennsylvania in 2008 and 2009. Surgeon outcomes are based on two years of combined data, 2008 and 2009, which increases the volume of cases per surgeon and results in a more robust analysis. Hospital outcomes are reported for the combined 2008 and 2009 data and for 2009 data only.
This report includes outcomes on in-hospital mortality, 30-day mortality, 7-day and 30-day readmission rates and post-surgical length of stay. In addition, 2008 and 2009 average charge and 2008 Medicare average payment are reported for hospitals.